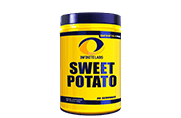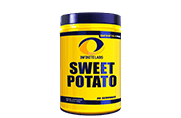 ---
ABOUT:
Sweet potato is an excellent complex carbohydrate that can be utilized pre workout and post workout to maintain energy levels in the working muscles and assist in the overall recovery process.*
SWEET POTATO MAY HELP SUPPORT:
SUPPORT LEAN MUSCLE DEVELOPMENT*

SUPPORT ENERGY OUTPUT*
ASSIST WITH RECOVERY*
Complex carbohydrates have been shown to play a crucial role in lean muscle development, energy output, metabolic function, insulin release and muscle recovery. These carbohydrates form muscle glycogen, the fuel that supports muscle contraction and overall function. Additionally, by maintaining constant blood sugar levels, they have been suggested to assist in the reduction of fat storage and fatigue, while simultaneously supporting the release of insulin—the body's natural anabolic hormone essential for lean muscle growth.*
Intense training sessions naturally lower blood sugar levels within the body. Depending on your training regimen and fitness goals, complex carbohydrates can be incorporated before and/or after your workout to support your blood sugar levels and assist in the anabolic process.*
---
DON'T WORRY BECAUSE
INFINITE ONE IS HERE TO HELP!
---
With Infinite ONE Sweet Potato, you have a pure, clean source of complex carbohydrates. Add to your protein shake to create a complete meal replacement.*
Infinite ONE
MEAL REPLACEMENT SHAKE:
100% Whey Isolate
Sweet Potato
Remember that all Infinite ONE products have a recommended dosage that should not be exceeded when mixing with other supplements or making your own.*