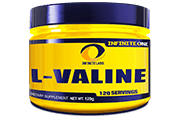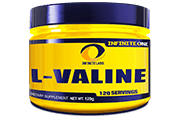 ---
ABOUT:
L-Valine is a branched chain amino acid that contributes to the structure of proteins and has been shown to assist in the storage of glycogen for the body to utilize as energy.*
L-VALINE MAY HELP SUPPORT:
SUPPORT GLYCOGEN STORAGE TO BE USED AS ENERGY*
L-Valine: is an essential non-water-soluble amino acid that is found in the interior of proteins. As one of three branched chain amino acids (BCAAs), L-Valine plays a role in supporting protein synthesis and recovery.*
BCAAs are one of the most common supplements in the industry. Everyone has a different ratio and everyone claims that they possess the optimal version. The truth is that everyone's body is different and therefore may require a different ratio. Play around with your BCAA rations and find out what works best for you.* If you are sick of taking BCAAs because you don't see results
---
DON'T WORRY BECAUSE INFINITE ONE IS HERE TO HELP!
---

With Infinite ONE, you now have the ability to add L-Valine to any existing supplement or even make your own recovery product.*
Stacking Infinite ONE:
The Basics
L-Isoleucine
L-Leucine
Electrolyte Complex
Add To:
Infinite Force® by Infinite Labs® to help aid in the process of recovery as an intra-workout*
Your favorite drink with food to help assist in protein synthesis*
Remember that all Infinite ONE products have a recommended dosage that should not be exceeded when mixing with other supplements or making your own.*