L-Citrulline
INFINITE ONE
Regular price

Sale price

$22.00
Infinite Labs offers a high-quality L-citrulline supplement that can help support healthy ammonia levels in the blood and promote overall health and well-being. L-citrulline supplements are safe and effective, and they can be a great addition to your daily routine. L- Citrulline lead to reduced fatigue and improved performance during exercise. Infinite Labs L-Citrulline is a safe and effective dietary supplement with 100% customer satisfaction legacy.*
PRESERVES NITROGEN LEVEL*
BOOST MUSCULAR ENDURANCE*
INCREASE BLOOD FLOW*
NO ARTIFICIAL FLAVORS*
PRE WORKOUT*
1.SCIENCE BACKED FORMULA

Infinite labs offer a dietary supplement that contains L citrulline. This supplement can be taken orally, and it is also available in powder form with 120 Servings. L-citrulline to make another amino acid called L-arginine. L-arginine is used by the body to make nitric oxide, which relaxes blood vessels and increases blood flow.
2.VASODIALATOR

L-Citrulline highly recommended for cardio-protective effects. Nitric oxide helps to relax and dilate blood vessels, which can improve blood flow and reduce the risk of heart disease. Infinite Labs offers a high-quality L-Citrulline supplement that can help you enjoy all of these potential benefits. Try it today and feel the difference.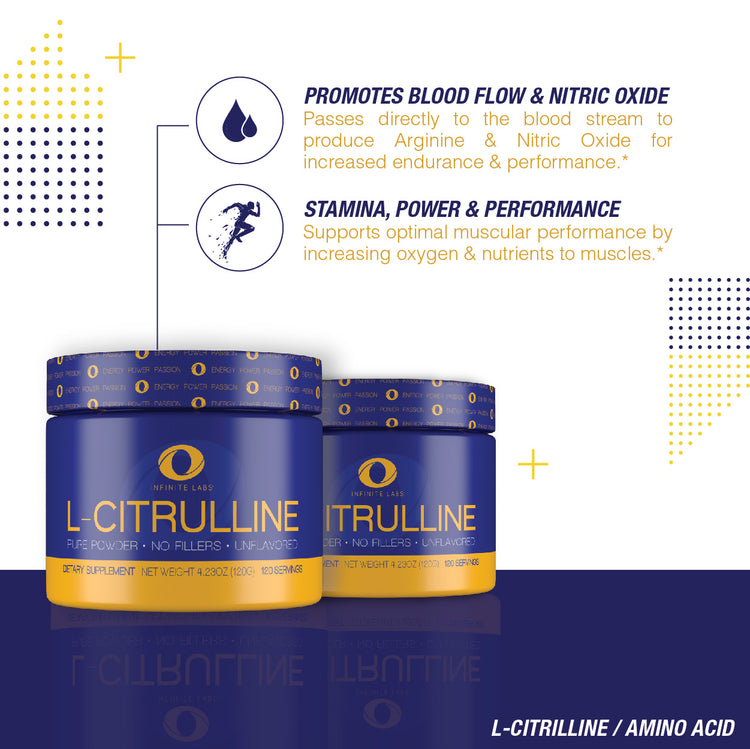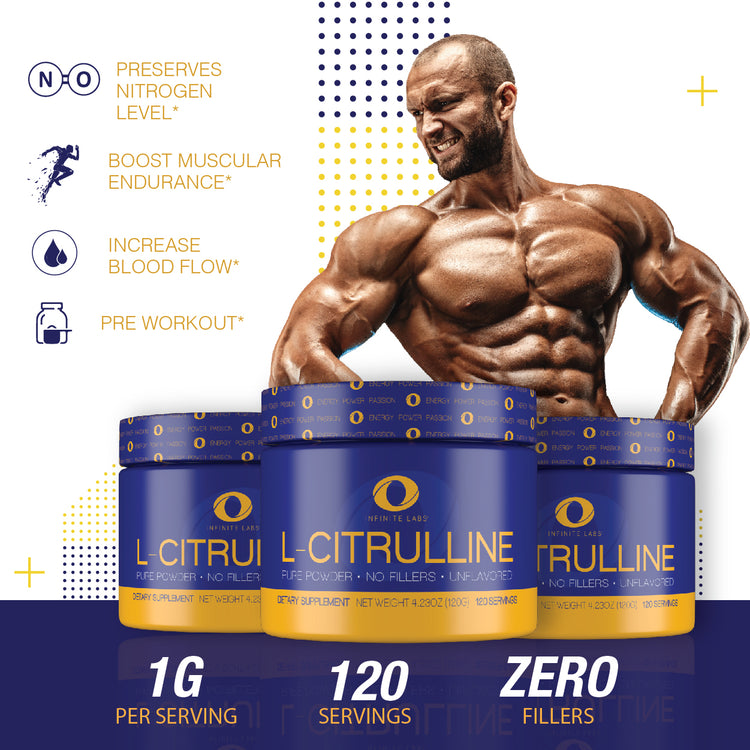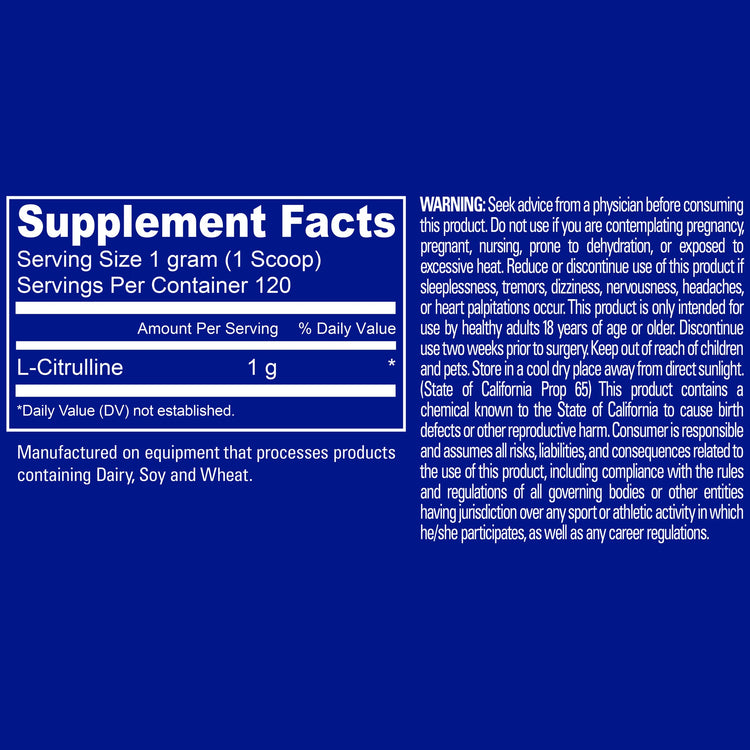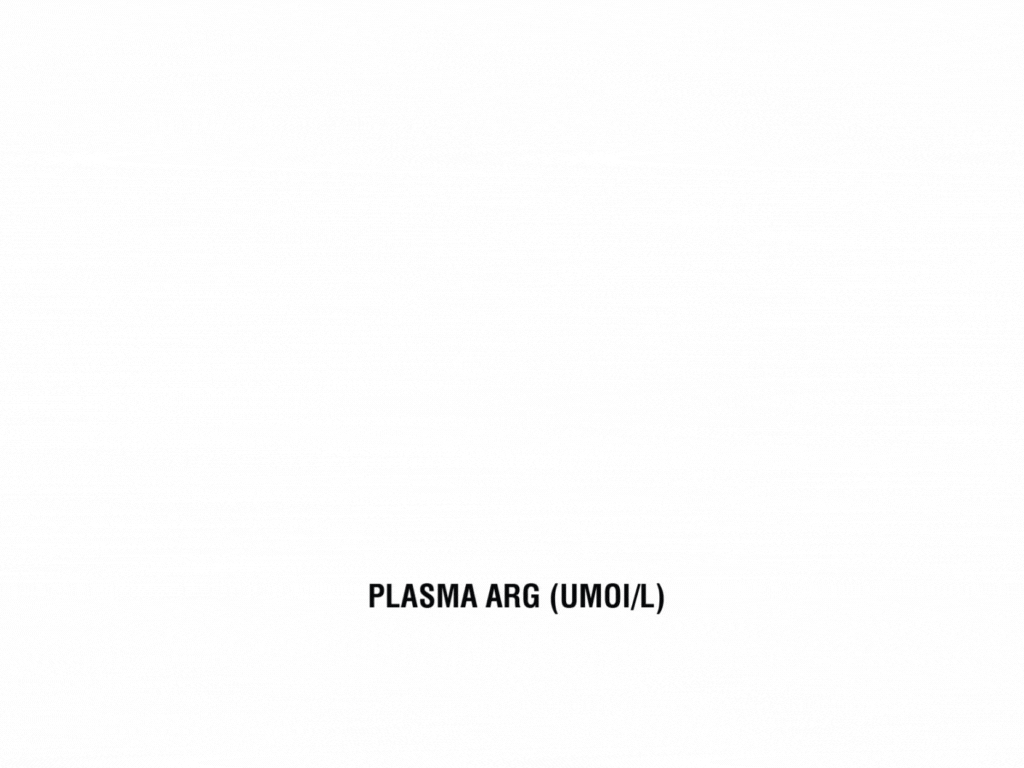 BOOST EXERCISE PERFORMANCE & REDUCING MUSCLE SORENESS,
As per study, L-citrulline supplements improved exercise performance in cyclists by 16% compared to a placebo.
L-citrulline supplementation increased nitric oxide levels by 34% and improved exercise performance in athletes' runner.
These findings suggest that L-citrulline could be an effective ergogenic aid for athletes and gym-goers alike.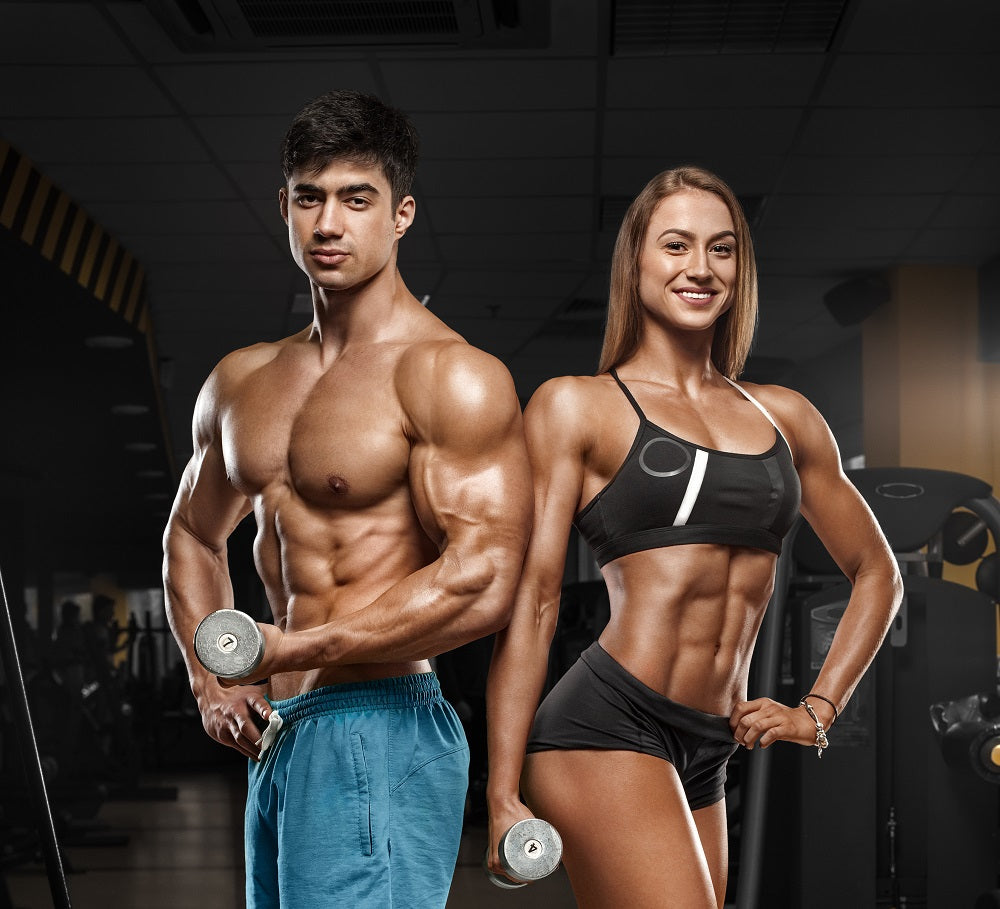 AID MUSCLE ENDURANCE & IMPROVE PERFORMANCE
A recent study found that taking 8 grams of Citrulline per
day improves HIIT workout performance in experienced weight lifters. Citrulline also increases oxygen level in the muscles and helps in boosting muscle strength and weight training efficiency among athletes and bodybuilders. It also aids in the expansion of your blood vessels (vasodilation) and efficiently works on muscle growth.
FREQUENTLY ASKED QUESTIONS
1. Whatis L-citrulline?

L-citrulline is a nonessential amino acid that is produced in the body from glutamic acid and ornithine. It plays an important role in the urea cycle, which helps remove ammonia from the body. Ammonia is a toxic waste product that can build up in the body and cause serious health problems.
2. What are the benefits of taking an L-citrulline supplement?

L-citrulline supplements have a number of potential health benefits, including improved cardiovascular health, increased exercise performance, reduced fatigue, and improved brain function.
3. What is the recommended dosage of L-citrulline?

The recommended dosage of L-citrulline is varies depending on your individual needs and goals. Speak to a healthcare professional before taking any supplements to ensure that they are right for you. Additionally, L-citrulline has been shown to reduce fatigue after exercise. In one study, cyclists who took L-citrulline supplements felt less fatigued during a 2-hour ride than those who took a placebo.
4. When should I take Citrulline?

Citrulline is a dietary supplement, hence it is recommended to take Citrulline Dietary Supplement 30–20 minutes before you hit the gym. This will help with fast absorption and boost HIIT workout performance.
Guarantees

Free Shipping

No Fake Claims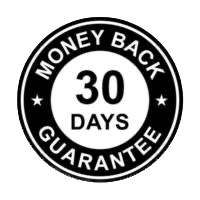 30 Days

Scientific