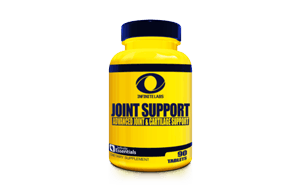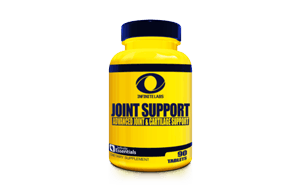 Infinite Labs Joint Support Supplement
Advanced Joint & Cartilage Support
Helps to support:
Healthy connective tissue*

Healthy cartilage*

Healthy ligaments*
Healthy tendons*
Fat burning muscle building*
For any active lifestyle to support healthy connective tissue, ligaments, tendons and joints.*
Joint support supplement is especially necessary for those individuals who subject themselves to a highly active lifestyle; most athletes and bodybuilders are constantly loading and unloading their bodies depending on their particular training regimens. Joint support combines glucosamine and other vital ingredients to help promote healthy connective tissue and cartilage.*
DIRECTIONS: As a dietary supplement, adults take one serving (3 Tablets) twice daily, preferably with a meal.
As we age, Glucosamine levels can decline. Joint Support contains 1500 mg of Glucosamine Sulfate to support healthy joint cartilage.*
MSM
Methylsulfonylmethane (MSM) may help support the reduction of inflammation and support overall flexibility.*
White Willow Bark Extract
(Standardized To 15% Salicin) may help to relieve pain and support anti-inflammatory effects.*
Plus:
Ginger Root Extract, Boswellia Serrata Extract,Turmeric Extract, Cayenne and Hyaluronic Acid.
Greatly reduced soreness in joints. Would prefer more servings per bottle.
I love this product. Joints were getting dry and creaky with lifting. I'm 41 years old but love to lift. 1 a day helped but 2 a day and I'm good as new. Recommended dosage is 3 a day. I would recommend this product to anyone with joint issues.
Great product although i use 5-6 a day but then again im 62 never had a Drivers License for a car Worked outdoors in Chicago as a Doorman for 10 years Heavy Squats and other debilitating leg work Yoga helped some but 240 lbs definitely need to drop 25 no easy task with injuries. Cheaper if you buy at Muscle and Strength or Bodybuilding. Com usually buy 2 get 1 free or buy 1 get 1 free save money its a supplement your probably gonna use for life.I also since May 08 lived in Los Angeles no car walking and public transit. Ive estimated over 30000 miles walking or running for my lifetime.
Bought two of this supplement. Just received it, very well sealed expiration date is good.
Most joint formulas have Glucosamine. Some might also have Chondroitin. This one has both (like the leading seller), but this one also has curcumin (Tumeric) — a space and natural anti-inflamitory as well as having anti-oxidants. Best one I've tried.
Important supplement especially for the strength trainer!
Great joint support product. Definitely well priced and works great. really has helped me when lifting heavy. Need to take care of your joints! 🙂
This supplement I like because there is only a few pills, I take it because sometimes my knee hurts after squats and since I started taking this that hasn't happened Love this stuff.
I hurt my knee (hyperextended) awhile back, so I started taking this. I feel like my recovery has gone well, I'm back playing volleyball, jumping, running. It was a terrible process, but I will continue to take Joint Support to help keep my joints overall in a good position to bounce back on a daily basis.