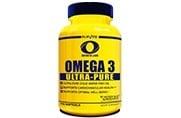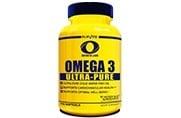 ABOUT:
Scientifically developed in partnership, Infinite Labs® and Heuer M.D. Research, proudly introduce the Elevate Series—the newest edition of premium supplements that utilize clinically accredited ingredients backed by years of scientific research and systematic findings.
Omega 3 Fatty Acids for Cardiovascular Health & Weight Management*
The Elevate Series was developed by one of the premier research medical doctors in the country. Dr. Marvin A. Heuer, M.D. F.A.A.F.P., has practiced medicine for over 30 years with experience in international and domestic clinical research, as well as pharmaceutical and nutraceutical development. With over 300 domestic and international nutraceutical patents and patents-pending, Dr. Heuer has served as Worldwide R&D Director and Vice President for a number of companies in the health industry before partnering with Infinite Labs on the design, formulation and development of the Elevate Series.
---
---
Elevate Series™ Omega 3
– Supports Cardiovascular Health*
– Supports Joint, Brain and Skin Health*
– Supports Optimal Well-Being*
– GMO & Preservative Free
Omega 3 at a Glance
Omega 3, found primarily in fatty fish with high oil content, consists of both Eicosapentaenoic Acid (EPA) and Docosahexaenoic Acid (DHA). Research has shown increasing evidence for anti-inflammatory, antithrombotic, antiarrhythmic and antiatherogenic effects of omega 3.*
Higher fish intake is associated with decreased incidences of coronary artery disease and cardiovascular mortality in several prospective cohort studies 1-4, 6-8. A recent meta-analysis launched by the Agency for Health Care Research and Quality found favorable effects of fish oil on cardiovascular and overall mortality. With this mounting evidence, the American Heart Association recommends one gram of fish oils in all patients with documented coronary artery disease via diet or supplementation9. Putting it in perspective, a minimum of one fish meal per week has been associated with a 52% reduction in sudden cardiac death5. Fish that are especially rich in the beneficial oils known as omega 3 fatty acids include mackerel, tuna, salmon, sturgeon, mullet, bluefish, anchovy, sardines, herring, trout, and menhaden. They provide approximately one gram of omega-3 fatty acids in approximately 3.5 ounces of fish.*
It is well known that a diet rich in omega 3 fatty acids reduces the body's overall burden of chronic inflammation and may support the prevention of many health issues associated with chronic inflammation. In addition to the obvious overall health benefits, omega 3 fatty acids may potentially reduce overall body fat percentage and belly fat10,11. Omega 3 fatty acids have also been found to support metabolic processes and fat burning capacity. In one study, subjects who received 1.8 grams of omega 3 containing EPA & DHA daily over a three-week period reported two pounds of fat loss. This is compared to the 0.66 pounds of fat loss reported by participants who received a placebo12. Furthermore, in a 3-week clinical trial, participants who combined daily supplementation of omega 3 with a healthy diet and regular exercise experienced more than three pounds of additional weight loss than those who combined a healthy diet and regular exercise with a placebo13.*
Omega 3 found in fish oil may provide a safe, inexpensive, and most importantly, effective option for supporting general health and well being in addition to supporting weight loss in conjunction with diet and exercise.*
References
1. Li D. Omega-3 polyunsaturated fatty acids and non-communicable diseases: meta-analysis based systematic review. Asia Pac J Clin Nutr. 2015;24(1):10-5.
2: Yanai H, Katsuyama H, Hamasaki H, Abe S, Tada N, Sako A. Effects of Dietary Fat Intake on HDL Metabolism. J Clin Med Res. 2015 Mar;7(3):145-9.
3: Wang X, Chan CB. n-3 polyunsaturated fatty acids and insulin secretion. J Endocrinol. 2015 Mar;224(3):R97-106.
4. Kromhout D, Bosschieter EB, de Lezenne CC. The inverse relation between fish consumption and 20-year mortality from coronary heart disease. N Engl J Med 1985; 312: 1205–9.
5. Daviglus ML, Stamler J, Orencia AJ, et al. Fish consumption and the 30-year risk of fatal myocardial infarction. N Engl J Med 1997; 336: 1046–53.
6. Hu FB, Bronner L, Willett WC, et al. Fish and omega-3 fatty acid intake and risk of coronary heart disease in women. JAMA 2002; 287: 1815–21.
7. Albert CM, Hennekens CH, O'Donnell CJ, et al. Fish consumption and risk of sudden cardiac death. JAMA 1998; 279: 23–8.
8. Albert CM, Campos H, Stampfer MJ, et al. Blood levels of long-chain n-3 fatty acids and the risk of sudden death. N Engl J Med 2002; 346: 1113–8.
9. Oh R. Practical applications of fish oil (Omega-3 fatty acids) in primary care. J Am Board Fam Pract. 2005 Jan-Feb;18(1):28-36. Review.
10. Parra, D., et al., A diet rich in long chain omega-3 fatty acids modulates satiety in overweight and obese volunteers during weight loss. Appetite, 2008. 51(3): p. 676-80.
11. Hill, A.M., et al., Combining fish-oil supplements with regular aerobic exercise improves body composition and cardiovascular disease risk factors. Am J Clin Nutr, 2007. 85(5): p. 1267-74
12. Couet, C., Delarue, J., Ritz, P., Antoine, J. M., & Lamisse, F. (1997). Effect of dietary fish oil on body fat mass and basal fat oxidation in healthy adults. Int J Obes Relat Metab Disord, 21(8), 637-643.
13. Kunesova, M., et al., The influence of n-3 polyunsaturated fatty acids and very low calorie diet during a short-term weight reducing regimen on weight loss and serum fatty acid composition in severely obese women. Physiol Res, 2006. 55(1): p. 63-72.
Save